Yes, we're having a sleepover apparently, mostly because Death hasn't slept, so I offered her the loan of my bed. Yay. I swear, she's trying to become a zombie through sleep deprivation or something. My typing will probably wake both her and roomie up, but one can only expect me to sit still for so long, I'm afraid. I don't do naps. Sooooooooo... I decided to finally get off my lazy but and post PICTURES!!! wheeeeeeeeeee...

In no particular order-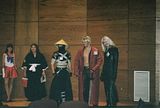 Bishies to the left of me, bishies to the right of me... Yes, the mysterious ninja, Dante, and Kadaj (or Yazoo cosplaying Kadaj, as War keeps saying) won first, second, and third in the cosplay... One wonders if the female judges were biased..hmmmm....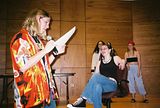 Blonde Squall hosted the dating game. That's Cassie in the chair, about to win me.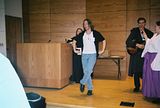 Dance, puppet. Dance!!!!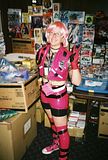 The best Shuichi at NebrasKon.. and NO, not the only Shuichi, either.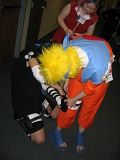 Heeeeeee.. Sasuke's stuck in Naruto.... the poor kids had no idea what a bad joke they would be coining just because Sasuke wanted a shuriken.. heeeeee




This Kyo cosplayer was THE COOLEST PERSON AT THE CON (barring yours truly, of course ;D). Her costume was cool, she was great in character, and she was probably one of the nicest people I met the entire weekend. She even helped us yell ourselves hoarse over
yuuo's amv. She and her friend, who was doing Miyavi, were awesome.




Speaking of, Miyavi and Kyo at the cosplay (they were only going by those names the entire weekend). Possibly the most cracktastic skit ever.



yuuo aka Death aka Jen showing her cosplay mad skillz by leading the FMA panel while cosplaying as Envy cosplaying Trisha. When she put on her coat and grabbed the cat she was the entire Elric household. All hail.




As fearless as she is in cosplaying, however... Death no likey mics.




You see why I fangirl Jen? This was the most heartbreaky cosplay the entire day... it made me sniffle and go ow...




This guy has sharingan contacts.. SHARINGAN CONTAAAAAAAAAACTS!!!!!




Yay for the scars. I painted them onto
youko_astarael myself. *proud*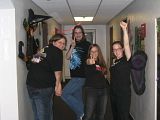 FANGIRLS UNITE!!!
youko_astarael (aka Ani, aka Famine), Cassie, me, and Leighannah outside my room for the after-party I hosted Friday night.
krillia (aka Krill, aka War)... was taking the pic and so somehow managed to escape the photo...




BUT NOT THIS ONE! hee. Me, Krill, and Ani fangirls our oh-so-shiny FMA watches which we had just purchased.




SQUEEE! It's ENVY! Envy came to the con! The day before she had been Pride!Ed. We fangirled and attacked her before she even had a chance to get all the way up the stairs.




Does this pic need a caption? Dante during his skit.




Blonde Squall as Kadaj, another pic that doesn't really need a caption.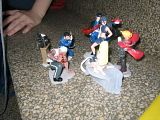 Krill's gashapons quickly learned who was most superior among them. ALL HAIL ENVY!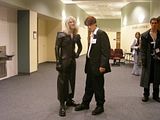 Ah, begin with bishies, end with bishies and all shall be right with the world.




That was 19 pics culled from about 300 what with Krill's, Ani's, and my cameras, and the official picture dvd I bought (of which I think I maybe kept 40 out of like 2000 pics- most were repeats or shots I couldn't care less about, but.. whatcha gonna do?)